Old Man Crushes ROCK my ass off!
July 27th, 2006 (06:34 pm)
current mood: chipper
So many of you know that I have this horrible fascination with old men (celebrities of course). And really, its all true. I blame Taylor Hanson for it. He was my first "older person" crush because at the time I was like 12 and he was like 15. HAHA Old school I know. Well now that I'm older, and wiser I've discovered how HOT old men can really be! So here are a few of my old men crushes:


My most recent:
Jeffrey Dean Morgan - AKA Denny on Greys Anatomy or John on Supernatural:



Up next good ole' Kiefer Sutherland. If Jeffrey hadn't come along Kief would be my main squeeze.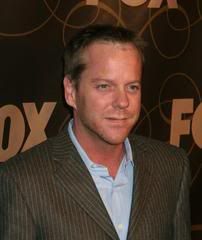 Then there's not so much older hottie Jensen Ackles:



Dave Grohl - he came after Taylor.